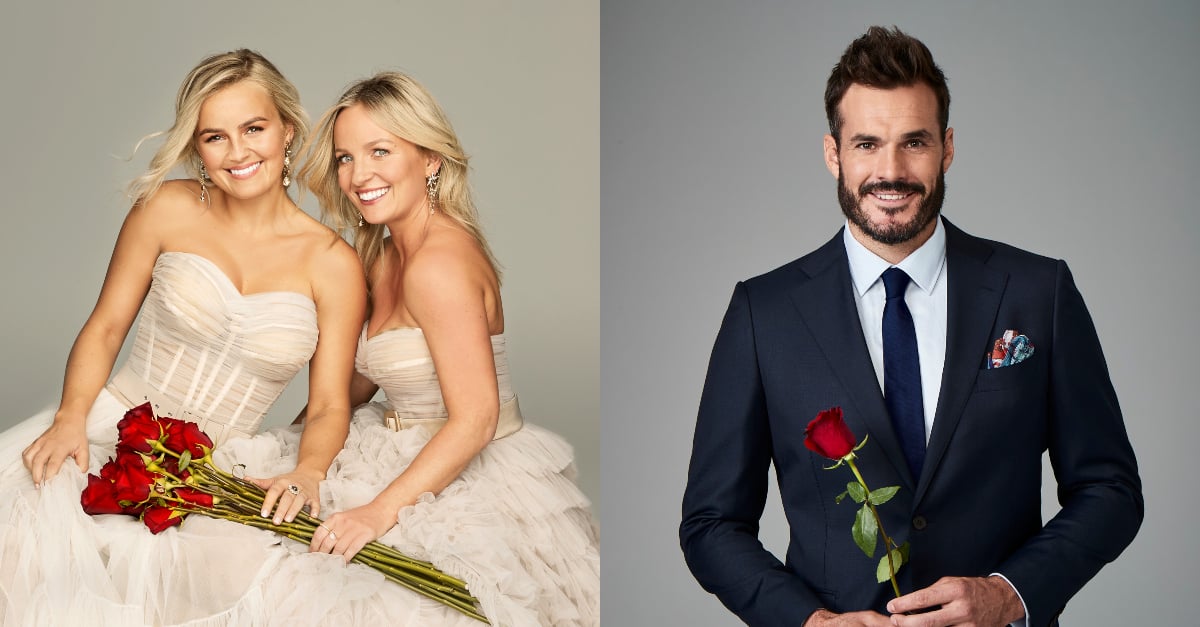 Today, sisters Elly and Becky Miles were revealed as this year's Bachelorettes in a series first. But it wasn't the series first that people were hoping for — there have been calls for diversity across the franchise, with some fans campaigning on social media for Paradise contestant Niranga Amarasinghe as the next Bachelor.
Bachie has a pretty woeful record when it comes to diversity, with a total of one person of colour having led one of the Australian seasons, Blake Garvey on The Bachelor in 2014. In terms of contestants, it's not much better.
It's been argued that the reason there are few people of colour on Bachelor in Paradise is because the pool of potential contestants is limited to former cast members from The Bachelor and Bachelorette. But, with the addition of three normal people as "intruders", dubbed "cleanskins" on the series, the show had the opportunity to cast people of colour — and chose not to take it.
The current series features three people of colour, Niranga, Mary Viturino and Renee Barrett. Last year, six contestants on The Bachelor were women of colour, while on The Bachelorette only one man of colour featured, Niranga.
Carlos Fang, from Georgia Love's season of The Bachelorette, told the Huffington Post about tokenism and stereotyping on the show, saying that he felt that he was on the show for 'diversity not necessarily substance'.
"I knew going on a show like The Bachelorette there would always be a 'token' guy," he said. "It's your advantage because you know there's always one person cast to represent that mix but it's likely to be a disadvantage for the final outcome of the show. Rarely is there a person of colour standing there at the end of the season."
Carlos was eliminated in the very first rose ceremony, although his statement doesn't always hold true — Brooke Blurton was in the final three of Honey Badger's Bachelor season, before she decided to leave the show.
"I think there's consideration given to minority groups. Most shows place someone of colour so that they are showing themselves to be culturally diverse," Carlos added. "But that representation needs to not play into certain stereotypes. It would be great to see a dark-skinned surfer or an Asian tradie. It doesn't always have to be, and shouldn't be, so cliché."
In June, the US Bachelor announced their first Black lead for season 25, Matt James — their first in 18 years. Rachel Lindsay was the first Black Bachelorette in 2017 for season 13. In a blog post from June, Rachel talked about issues around leads of the franchise not potentially being prepared to date outside their race.
"The sad reality is that people of color become placeholders as the token person of color to add some flavor to the second half of the season," she wrote.
The announcement of Elly and Becky as co-Bachelorettes comes in the same week that Farmer Wants a Wife premiered, and was panned for featuring a cast of 40 White women and five White farmers.
A network spokesperson told POPSUGAR Australia: "Eligible contestants on all Network 10 shows are considered regardless of race or background. Network 10 takes its commitment to diversity seriously and we cast as broadly as possible across our entire slate."
People like Love Island's Tea Fraser, the second Black woman to star in the Australian series, have pointed out to the Huffington Post that minorities don't necessarily audition for the series in the first place. Her fellow Love Island star and woman of colour Cynthia Taylu also noted people might be "scared [to apply] . . . because they feel as though people won't accept them because of their colour".
"For me, I watched the show last year and that was something that I noticed, 'Oh there's not really much diversity,'" she said. "Obviously I did go on the show to find love but I also thought it would be really cool for someone of my background to go on a show that's about love."
Niranga, talking to News.com.au earlier this month, flagged not only the dearth of people of colour applying for these kinds of shows, but also extra cultural barriers which may deter potential contestants.
"From experience, there are less POC auditioning for reality TV," he said. "For the ones who do and are successful, there is another hurdle an individual has to conquer to actually make it to the filming stage. They have to convince their families they are happy for them to go on reality TV. POC individuals can have very strict cultural backgrounds which don't always allow this kind of public display."
But the onus shouldn't be on the contestants, but on the productions themselves, who we know sources contestants from Instagram or the polo, to dig a little deeper to ensure diverse casting.
It's not good enough to see another sea of familiar White faces on the next reality dating show that rolls around.