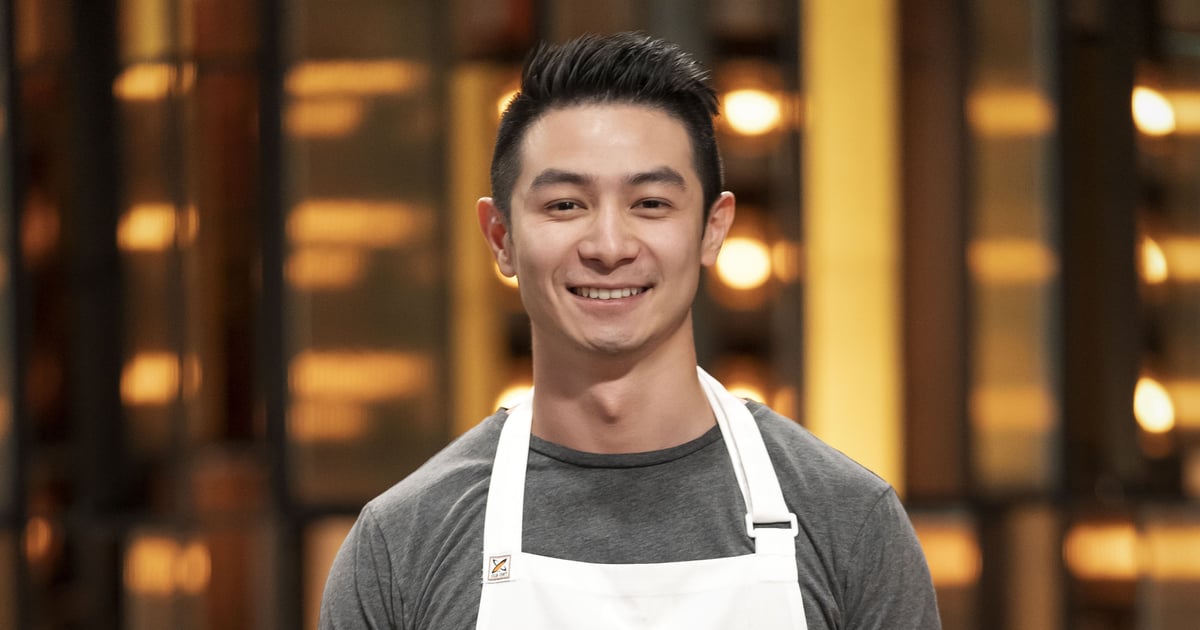 Reynold Poernomo won his second Immunity Challenge and the first spot in the top five on tonight's MasterChef.
The top three contestants from Monday's Rubik's Cube Mystery Box, Laura Sharrad, Poh Ling Yeow and Reynold, were met with a sea of cloches when they arrived in the kitchen. They had to choose two, each containing just one ingredient. Featuring a different ingredient in each, the contestants had to cook one sweet and one savoury dish in 90 minutes.
While they could choose to swap out one of their ingredients and pick a new cloche, but would have to use whatever they found beneath.
Reynold walked into the kitchen feeling good, and excited to be presented with something he had never seen on MasterChef before. The first person to pick his cloches, he uncovered first madeira and then fennel, but, as a "betting man", chose to give up his fennel and take a chance on getting the citrus fruit he wanted instead. While he thought he could smell citrus in the air, what actually lay under the cloche he picked were dates.
Reynold made Mushrooms With Date Puree and Brown Butter Foam and a Chocolate Brownie With Madeira Gelato and a Madeira Veil. While he'd intended to serve quail with his mushroom and date dish, he overcooked it, and decided not to serve it up, and to instead rely on the other flavours on the dish. He reasoned that the quail, if anything, might subtract from the dates as the "hero" of the dish and that at this stage in the competition overcooked quail wouldn't cut it. It was disappointing news for Jock Zonfrillo during judging, but it obviously paid off in the end. He gushed that his madeira gelato was the best he'd made so far in the competition, but at the end almost forgot his veil, remembering in the very last moments of the cook.
Laura's technique for picking her cloches was to spin through them and pick randomly, then feel for a "good vibe", and she ended up with red miso and vanilla — two solid picks. She stuck with them, making a Barbecued Pork dish with her red miso, and Sfogliatella With Vanilla Custard, which was unfortunately overpowered by molasses flavours despite the amount of vanilla elements she incorporated into the dessert, even though Jock warned her about this possibility.
Poh was very disappointed by her two choices, bergamot and ruby grapefruit, and chose to pick again, ending up with olives instead of the bergamot when she spun to choose a different cloche at the last second. She made a Quail and Olive Ragout Stuffed Gnocchi and Chocolate Hazelnut Pastry with Fresh Grapefruit, but quickly found that time was getting away from her before she'd even started on her dessert — she'd chosen to put too much of her time into the complex ragout instead of dicing and incorporating the grapefruit into her sweet.
The winner was between Reynold and Laura for immunity, after Poh was taken out of the running for her "clumsy" and overly large gnocchi, and "rushed" pastry.
Andy commented that Reynold's savoury dish was beautiful but did feel like it was missing quail, adding, "At his stage we wanted a little bit more from you." Meanwhile his dessert was "singing of madeira", truly featuring the ingredient — so much so that Melissa Leong even danced while eating it. Meanwhile Laura's pork was delicious, but her Sfogliatella wasn't vanilla-y enough.
Having almost held his breath as Andy Allen talked through his and Laura's dishes, Reynold breathed out and doubled over with elation when he was declared the winner for best meeting the brief. Reynold said that he was "speechless" about his win, but pleased to see that his "rough patch" was over: "To finally cook something today that I was really happy with, I feel so much better now."
Congratulations Reynold!